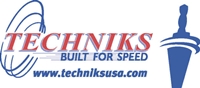 TECHNIKS
TECHNIKS USA
ABOUT TECHNIKS USA
Hemly Tool Supply sells American-made workholding and toolholding solutions, as well as specialty tools and machines, by Techniks, an Indianapolis-based tool manufacturer.
Techniks is one of the many quality tool and workholding manufacturers carried by Hemly Tool Supply, and a key offering in our commitment to providing the leading brands of metalworking tools and industrial supplies at competitive prices to machinists and the machining industry.
Techniks manufactures rotary toolholders and magnetic workholding solutions for CNC milling machines, as well as magnetic lifting and parts deburring machines
On this page, you'll find special promotions from Hemly Tool Supply on Techniks workholding and toolholding products, plus specialized tools to provide even bigger savings on top of our everyday competitive prices. .
Bookmark this page and check back regularly to see our latest offers on Techniks products. From this page, you can also search our current inventory of Techniks products to find the items we have in stock.
Also available on this page is the complete Techniks catalog, which includes additional information to help you find and choose the right toolholding option for your job and your shop. If you're looking for specific products, you can consult the Techniks product literature for a more focused search. The full catalog and individual product descriptions can be viewed online or downloaded for future reference.
Toolholding and workholding solutions you'll find in the Techniks catalog include:
Collet and nut holders
Collets and nuts
End mill holders
ShrinkFIT holders
Face mill arbors
Turn and mill tooling
Tap holders
Boring tools
Magnetic workholding
Lifting and deburring machines
Setup equipment, including a variety of specialized tools
Hemly Promotions
Product Literature
Contact Info
Hemly Tool is pleased to offer a variety of special promotions on essential Techniks USA products.