Hemly KnowsTool Cabinets
Tell us the type of tool organization your shop needs for efficient operation, and we'll help you find the tool cabinets made for the task – even models with configurable, interchangeable drawers.
USED TOOL CABINETS
How can something as simple as a used tool cabinet contribute to your shop's success?
Think about some of the key inputs that flow directly to your business's bottom line. The old saying, "Time is money," has stuck around for so long because of its simple truth. Another old saying is, "Take care of your tools and they'll take care of you." Controlling costs is another permanent fact of life in the business world, and it's more critical today than ever.
Hemly Tool Supply can help you in all three ways with something as simple and affordable as our used tool cabinets.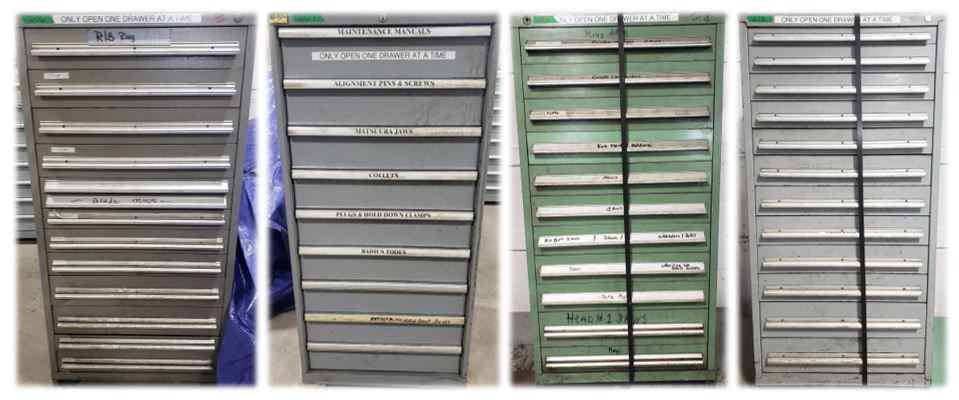 In the shop, time your employees spend searching for the right tool is time that isn't used to get the job done. Keeping tools organized and close at hand enables your employees to work quickly and efficiently. Stopping in the middle of a job to go search for a needed tool not only breaks focus and wastes time, it also increases job frustration. Having a tool cabinet of the right size and configuration allows you to place tools where they are needed. Hemly Tool has a wide selection of used cabinets to consider.
Secondly, Tool Cabinets protect the investment you make in your shop's tools, reducing damage and loss.
Then there's the question of controlling costs. It's a necessary fact of life in today's competitive business environment. Hemly Tool will be happy to sell you a brand-new, never-used, high-quality tool cabinet. But we also realize you may sometimes have other priorities for your budget, and our selection of used tool cabinets may meet your needs at a lower cost to your business.
See the chart below to browse our current inventory, including listings of dimensions and features.
A used tool cabinet from Hemly Tool Supply can help you meet your needs for organized, secure, protective storage at a fraction of the cost of a new cabinet.
Click on any cabinet photo for a closer view.
| | | | | | | |
| --- | --- | --- | --- | --- | --- | --- |
| Picture | Cabinet Number | Dimension (WxDxH) | # of Drawers | Color | Brand | Price |
| | | | | | | |