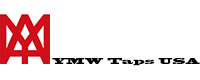 YMW TAPS USA
YMW TAPS USA
ABOUT YMW TAPS USA
Hemly Tool is proud to offer the full line of high-quality, high-performance YMW taps and cutting tools from YAMAWA U.S.A.

Manufactured with a commitment to constant innovation, YMW taps and cutting tools meet the evolving demands of precision metal cutting and threading with greater precision and efficiency.

The YAMAWA product line includes:
Precision cutting tools, including taps, center drills, gauges and dies
Tap and drill sharpeners
Precision pitch diameter measuring machines
YMW taps and tools are manufactured to meet the high-speed, high-precision metal machining and threading demands of modern CNC machining equipment. Choosing YMW taps enables your shop to take full advantage of its CNC machines to increase production and reduce costs. For example, Hemly Tool offers YAMAWA's high-performance taps for machining extremely hard materials, such as titanium and nickel-based alloys. Hemly can also offer taps that address environmental concerns, thanks to YAMAWA's proprietary, oil-less thread-forming taps that eliminate both metal chips and the need for cutting oil which makes the process cleaner and more efficient.

Follow the links below to view YAMAWA's full, 157-page catalog of products, as well as periodic special promotions from Hemly Tool and updated information on products and prices. Inside the catalog, you'll find complete listings of thousands of options in taps and dies for working with stainless steel, steel alloys, titanium, copper alloys, nickel alloys, aluminum and other materials. The catalog also offers check pin gauges that help ensure quality by accurately measuring hole diameter before tapping. And for those looking for technical information, the YAMAWA catalog offers dozens of pages of charts, illustrations and extensive reference data.

Founded in Tokyo more than 90 years ago, YAMAWA has grown into a worldwide supplier with its own research, development and testing center to ensure continuous improvement. YAMAWA's facilities in Japan meet ISO9001 and ISO14001 certifications to ensure quality control and environmental responsibility.

Get YAMAWA quality and innovation from Hemly Tool Supply. Check out the YAMAWA full catalog below or contact Hemly Tool today!
Hemly Promotions
Product Literature
Contact Info
To save on the taps and dies you need, check out the latest special offers from YMW-USA.
YMW ZELX SS Flyer