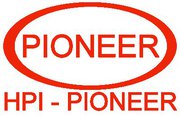 HPI PIONEER
HPI PIONEER
ABOUT HPI PIONEER
Hemly Tool Supply offers a full range of tool and work holding solutions from HPI Pioneer, an American tool manufacturer that has been supplying the metal cutting industry since 1973. Based in Elk Grove Village, Illinois, and working with partners in Germany and Japan, HPI Pioneer provides sophisticated and technologically advanced tool holders and other products that ensure you don't have to compromise on production quality.

Hemly Tool partners with manufacturers like HPI Pioneer to provide your business with the high quality tool holders and work holders needed for quality production. Imprecise holders can seriously impact results, negating the advantages of even top-of-the-line machines and cutting tools. the company's HPI Pioneer products provide high standards of precision – better than three microns.

Hemly Tool carries HPI Pioneer products for the following jobs:

Drilling
SX super chuck for maximum accuracy
MC mill chuck for large shank drills
MX/VX mini chuck for small drills
ER collet chuck for "best in class" performance and true dynamic balance
Reaming
SX super collet chuck for premium performance
ER collet chuck
Milling
BC bearingless mill chuck
MC mill chuck
MX/VX mini chuck for finishing
EM end mill adapter
SM shell mill adapter
Tapping
Quick change chuck
ER collet chuck
Thread milling
MX/VX mini chuck
SX super chuck
SM shell mill adapter
HPI Pioneer stands behind all its products, guaranteeing them against defective material or workmanship for a year. The precision engineering that goes into each tool ensures closer tolerances and more reliable balancing, as well as advanced features, such as two coolant through options.

Follow the links below for more details on HPI Pioneer products, or click on the promotions link to see Hemly Tool's current specials on HPI Pioneer tool solutions. Special promotions can save you $1,000 or more on sets of tool holding systems, so don't overlook the promotions literature.
Hemly Promotions
Product Literature
Contact Info
Save up to $1000 with special offers from Hemly Tool on HPI Pioneer tool solutions.