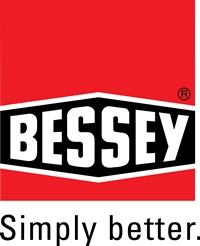 BESSEY
BESSEY TOOLS
ABOUT BESSEY TOOLS
Hemly Tool Supply is your source for the full line of metalworking and woodworking clamps and tools from Bessey Tools. Primarily made in Germany, hand tools and accessories from Bessey Tools have earned a reputation for quality that comes from 130 years of precision German engineering and craftsmanship.
Hemly Tool carries clamps and other work holding solutions from Bessey Tools that are appropriate for everything from use in home metalworking or woodworking, to specialized production in a professional shop.
Clamps for metalworking
From the traditional C clamp to a specialized jig and fixture clamp that delivers 2,660 pounds of clamping force, Bessey provides a wide range of work holding solutions for use in metal fabrication, welding, ship-building, maintenance and repair. Product lines include:
High-performance clamps
Machine table clamps
Welding table clamps
Shop floor clamps
Auto-adjust toggle clamps
Angle clamps
Vises
Grip pliers
C clamps and J series clamps
Clamps for woodworking
L clamps from Bessey Tools have special features for woodworking that offer particular ease of use for cabinet making, furniture construction and general woodworking. Product lines include:
Malleable cast bar clamps
Parallel and case clamps
Lever clamps
Auto-adjust toggle clamps
Angle and miter clamps
Spring clamps
Grip pliers
Special flooring products for working with laminate flooring
Edge clamps
Other clamps and accessories
Cutting tools
Hemly Tool carries snips and knives from Bessey Tools built for both multi-purpose use and highly specialized applications. Browse our selection of compound leverage snips, specialty snips, multi-purpose cutters and folding utility knives.
Accessories, service parts and spare parts
Hemly Tool provides a full range of Bessey Tools accessories and parts for repair or replacement. Some of the most commonly requested spare parts that we carry include arm assemblies, handles, spindles and clamp replacement pads. We also stock accessories like extensions and jaw adapters that provide greater flexibility from your Bessey clamps and tools. .
Follow the links below to see the full line of products we carry from Bessey Tools, visit the manufacturer's website, or click on the promotions link to see our current specials. Have questions? Contact Hemly Tool today.
Hemly Promotions
Product Literature
Contact Info
Take advantage of discounted pricing from Hemly Tool on select Bessey metalworking and woodworking clamps and tools.